Registration for 2016 Championship
DVD Giveaway!
Complimentary 2008 Season Hillclimb DVD with Early Registration*
*The first 20 drivers to Register for the 2016 Championship by post before 10th April will receive a 2008 season DVD showing a selection of rounds. This DVD can be collected at the first event at which they compete.
Why, you ask? In short, this is to help the early rounds to avoid delays in the mornings. We will provide the Club with all Registered numbers well in advance of the first event, which is helpful to the Clubs in running on time. So lets all do our bit!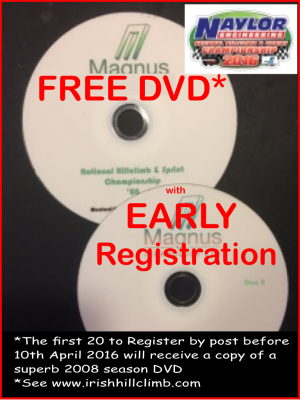 ________________________________________________________________
Registration is now open for the 2016 Naylor Engineering National Hillclimb & Sprint Championship.
14 Counting Rounds – Best 9 Count
Cost of registration is €50
Please see the Registration form and information sheet below for further details.
Download Registration form here : Naylor Engineering Irish Hillclimb & Sprint Championship 2016 Registration Form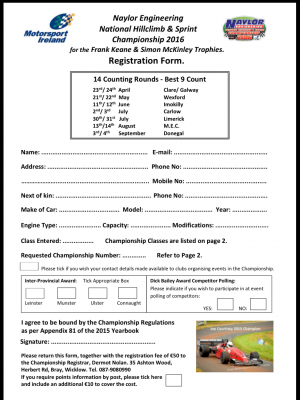 With thanks to our Championship Sponsor, Naylor Engineering.