2021 FIA Hill Climb Masters
Rob Dwane Second Fastest Under 25
The Irish drivers settled down to compete at Braga, Portugal with glorious weather (even the locals were surprised by the sunshine and warmth for October).
It was an early start as they had to convoy with the single seaters who did not finish their practice on Saturday, this nearly caught out Gary Graham who got to the paddock a little late. You never saw a man get suited and booted so fast. Team captain Billy White checked the car and warmed it up for Gary to hop in and just about make it to join the end of the convoy to go down to the start.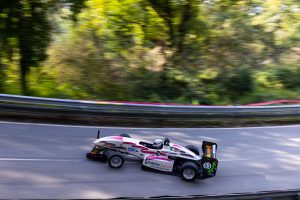 Rob Dwane from Co Clare finished second in the young drivers competition. He was improving on each run until engine issues just after the chicane started to slow him on his second run and he was unable to start his third to challenge Luigi Fazzoni from Italy for the U25 prize. Rob had a best time of 1m 11.400s to finish 2.45s behind Fazzoni and 25th overall.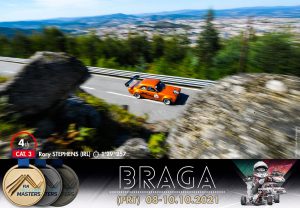 The SHP RSR MkI Escort of Rory Stephens from Dublin was admired in the paddock and also on the track as he enjoyed the high speeds compared to the tighter hills on the island of Ireland. The car started having clutch problems during practice but it was quickly analysed that a quick adjustment between runs would keep the clutch sorted. Rory finished 4th in Category 3 and 105th overall with a time of 1m 26.257s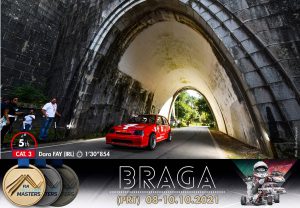 Dara Fay from Co Louth was much mentioned by the commentators on the live stream who were amazed at how much he could get out of a 1398cc Suzuki Swift GTI . Dara's best time was 1m 30.854 for 110th overall and an amazing 5th of 27 in Category 3 against many more powerful machines, this was after a fright with ignition problems on the Saturday practice day which was sorted from his supply of spare parts.
Next up is Willie Barrett Co Limerick in his Honda Civic, he was another who commented on trusting the grip of his Avon tyres through the high speed turns.He found a time of 1m 33.755s on his last run to finish 11th in Category 3 and 121st overall.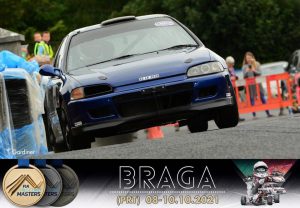 Galway's Tommy Gardiner in his powered by Snow Civic, his engine had failed the week before the event and Christopher Snow Jr loaned and fitted his own engine and then trailered the car out to Braga. Tommy's best was 1m 35.108s for 16th in Category 3 and 129th overall.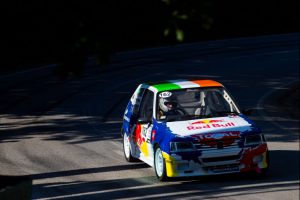 And finally just in time Gary Graham from Dublin in his 1600cc Peugeot 205 finished 27th in Category 3 and 151st overall with a big smile on his face in a time of 2m 0.117s
Team Ireland (Rob, Rory, Dara and Willie) finished 10th of 15 countries in the Nations Cup 1/1000 of a second behind the United Kingdom. A driver's contribution is based on consistency with Dara Fay showing how it should be done having two runs with only 0.039s difference.
Drivers and crews complemented the facilities with the paddock based in grounds of Portugal's second largest Marian Shrine, the Sanctuary of Our Lady of Sameira.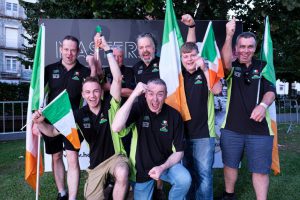 The Irish drivers
Standing L-R Willie Barrett, Rory Stephens, Tommy Gardiner, Billy White (Captain), Gary Graham.
Kneeling Robert Dwane, Dara Fay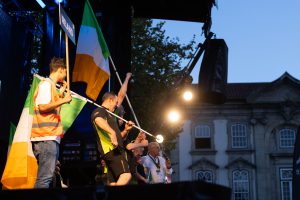 The drivers presentation ceremony on Friday 8 October 2021 in Braga city centre.
Comments by the drivers after the event
Rory Stephens "Hi all
Just need to thank a few people after a better than expected weekend in Braga , competing on the Irish team,at the world masters event.
Firstly to Paula ,Sam and Gary for all their support.
To my sponsors,jdm bray,David quigley motors new Ross,and Shp
Engineering uk who built the car
Your financial support was much appreciated.Without sponsorship
Events like these would be very difficult.
Thank you to captain Billy,and beaver,I know the work that went on behind the scene.
To all those who kept the car going over the weekend,Gary ,aidin,rally ally,who fitted clutch master cylinder on Saturday,and the showers of snow who gave me a clutch pedal every run ,and kit,derek,Georgie,Shane for the push to the line every time.
To the whole Irish team ,the fact that we all enjoyed so much,and supported each other speaks for its self.
To end fourth in the open cat 3,and need to go a sec quicker on the last run,for a spot on the podium,was a better result than we had hoped for.
I was so great full for the commissions vote for the wild card,
I hope I have justified their decision.
Irish hill climbing needs a big start next year from the get go,and we all need to support it,clubs,drivers ,the commission,hopefully the in Sligo will give us an apprtite for next and we will come out in big nos.
It was great to see Danny callnan out ,and I know they had a ball,
Thanks again to one and all.
Grandad"
Gary Graham"Great results from all the team what an amazing experience to do such an event the crowds the marshals the whole weekend was fantastic special thanks to Derek Mc Guinness for all the help with the car unfortunately brake issues didn't help on the day and all the taxi rides you should gave gotten a prize for the most times a car was up and down the hill 🤣🤣"
Robert Dwane "Hillclimb Masters 2021 done and dusted🏁🏁 What a weekend, what a Hillclimb!🏎 Super high speed corners with thousands of spectators all along the armco, there's nothing else like the Masters event. 😁😁Delighted to take Ireland's first podium spot with a 2nd 🥈 in U25 category! Our sponsors, Smithstown Light Engineering, Avon Tyres and PrintTank this weekend, the backing and resources that helps make this world class event possible for us has been extraordinary. Thanks to everyone that made the trip to help and support, it was super to see all the Irish flags in the massive crowds☘. Thanks so much for all the messages of encouragement from home too, much appreciated! Well done to the rest of our Irish team and Team Captain on another great job, we hope we did the our country proud…."
*****************************************************************************
2021 July 29 10:15 Article from FIA Hill Climb Masters Facebook page
Motorsport Ireland, the Irish ASN, has confirmed Billy White as the Captain of the Irish National Hill Climb Team for the 2021 edition of the FIA Hill Climb Masters.
Do you already have some indication of the appetite of drivers of Ireland to be at the start in Portugal next October?
Billy White: "Ever since the last Hill Climb in Gubbio many of the drivers have expressed a keen interest in competing in the next Masters Hill Climb event. This has been the talk of many meetings among the drivers and it always raises the excitement level."
How is Irish Hill Climbing coping with the current health crisis? Have any events been able to continue and has the championship already been resumed?
B.W.: "We had a 14 round championship planned for 2020 but with the pandemic and all the restrictions we have had to cancel it. 2021 looked promising for the championship events to go ahead but with further lockdown within the country and numbers severally restricted at sporting events, we were unable to secure a 2021 championship. We are hopeful for some Irish hill climb events to take place later in the year."
Do you have a special memory from previous editions of the FIA Hill Climb Masters, where Ireland was represented?
B.W.: "I have many great memory's from all previous editions of the FIA Hill Climb Masters, being selected to represent your country for the sport you love and are extremely passionate about is a very special honor. It is hard to pick one memory out of them all. I went to the first editions of the FIA Hill Climb Masters in Eschdorf, as a spectator, the second edition in Šternberk as a mechanic for a friend and the third edition in Gubbio as the Irish team captain for the four drivers competing for the Nations Cup. They were all so different but all special and are memories I will always cherish."