Who will make a clean Sweep of it? Rounds 5&6 Imokilly Preview
The Imokilly Motor Club are delighted to bring the Irish Hill Climb & Sprint Championship to one of the oldest and best hills for motorsport in the country: The SWEEP, Dungarvan. The course has been used for decades for sprints and hill climb events in a bygone ages, closing the main road from Cork to Waterford for motorsport .
After running a successful 2 day Championship event last year, Imokilly Motor Club are again running a 2 day event, hosting Rounds 5 & 6 of the National Championship on 10th & 11th June weekend.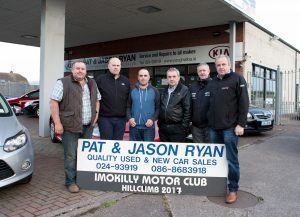 Above: At the launch of the Pat & Jason Ryan Motors Youghal ,Imokilly Motorclub Hill Climb Weekend Wesley Daly Deputy Clerk of the Course , Dick O' Brien Clerk of the Course, Jason and Pat Ryan Sponsors and IMC club members Donal McGrath , Tony O'Driscoll.
Dick O' Brien is back as the Clerk of the Course for the event and the main Sponsor is Pat & Jason Ryan Motors Youghal. This year the Imokilly Motor Club are pulling out all the stops to make this a memorable event. Clerk of The Course Dick O' Brien said there is no doubt it's an iconic hill. The Sweep in Dungarvan, will see all the Championship regulars, a strong representation from our club drivers and in particular our Junior drivers who are showing fine form at present on various events. It should be a great 2 days of Motorsport.
The event is well worth a look at to see the saloons and the rally cars at full tilt going sideways combined with the sheer speed of the single seater hillclimb cars that can reach incredible speeds up the hill.
The event on The Sweep is 2.2km and the clubs intention is to give 3 timed runs per day .
Entry fee is One Day €140.00 Both Days €245.00.
Keep up to date with all that's happening on
www.imokillymotorclub.com or follow us on facebook. Follow our event sponsor www.ryanmotors.ie.