Marshals Representative
New for the 2017 Championship, we will have a 'Marshal's Representative' who will carry out specific tasks over the 7 Championship weekends.
We are delighted that Frank Byrnes Autobody Repairs, Oranmore are the 2017 Marshals Sponsor. The Hillclimb Committee would like to thank Frank Byrnes for his ongoing support and involvement with this exciting new project.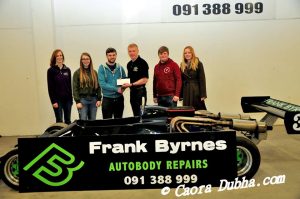 Photo credit: Caora Dubha (L-R Deirdre McKinley, Phove Gavin, Jamie O'Rourke, Frank Byrnes, Billy White, Keeva White)
Jamie O'Rourke will be filling this role of Marshals Rep. For those of you who don't already know Jamie, he was our 2016 Marshal of the Year. The role has been developed to achieve the following goals:
1) To encourage repeat Flag Marshalling, using a number of specific incentives.
2) To increase the real time coverage and strengthen the branding of Hillclimb & Sprint.
Thanks to Frank Byrnes Autobody, Flag Marshals will have their own Branded High Vis vests to add to the Team element within marshalling. These vests will be handed out and a marshals Team photo will be taken at briefing and used in our publicity.
Jamie will also be selling the Irish Hillclimb merchandise, Irish Hillclimb DVDs and Motorsport Ireland stickers for specific period during the event days in the paddock.
MERCHANDISE
Those who marshal frequently will again receive their complimentary Irish Hillclimb merchandise. This element is funded by all profits from the sale of Irishhillclimb.com merchandise so please continue to purchase your hats/polos/fleeces/softshell jackets! There will also be a donations bucket at sign on – please contribute if possible.
In 2015 the Marshals Fund started up, finding small ways to thank marshals. In 2016 this grew with the decision to sell IrishHillclimb.com merchandise to the Hillclimb community. All profits from this were used in the Marshals fund to thank Marshals in the following ways:
By giving Irish Hillclimb merchandise to those who marshal regularly. Those who marshalled 3 times chose a baseball cap or beanie. Those who marshalled 6 times were offered a fleece and those who marshaled 9 times were given a ticket to the Championship prize-giving.
Creating a 'Marshal of the Year' Award.
Gradually providing items of use for marshals (ie black umbrellas, as used by marshal at Knockalla 2016)
This Marshals Fund will continue in 2017.