Some Retrospective Ramblings
The phone rang out , preoccupied with something "important". I missed the call. Later 171 revealed , " Hi Brenner , Rory here , nothing serious , perhaps you would give me a call , need a favour". Oops, when Grandad needs a favour it usually means there is likely to be some pain involved and not for him!
Seemingly there was some interest in my retro posts on Facebook regarding hill climbers and venues of the past, so Rory suggested I do an article to coincide with the start of the new season. Perhaps not a history as that would turn into a War and Peace type tome but given my great age a general account of the history and a recollection of some of what I have witnessed over my time as a young spectator, marshal and competitor .
Coincidentally both myself and Rory live within about a hundred metres of the start of one of Ireland's earliest hill climbs which was run on Cornelscourt Hill Road in the 1920s and I am told that the Father of a well- known MI official and former Anglia driver, Dermott Quigley, competed there on a motor cycle .
Hill climbing is the oldest form of motorsport with the first event taking place in France in the little village of Chanteloup in the region of Poitou-Charentes in 1898. A year later the first British event took place at Petersham Hill at Richmond-on-Thames.
1905 saw the beginnings of that wonderfully iconic venue that now claims to be the oldest motorsport venue in continuous use in the world , Shelsley Walsh . I have had the pleasure over the years of competing at both Shelsley and Prescott and for any serious hill climber they have to have them on their bucket list at least once before hanging up the helmet.
Sprints began in Ireland in 1903 with a one mile sprint and a one kilometre flying sprint on Chesterfield Avenue in Dublin's Phoenix Park, and in 1905 a sprint was held on the wide strand of Portmarnock.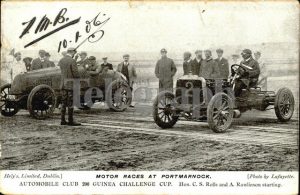 It is believed that an event in Ballinaslaughter near Newtownmountkennedy Co. Wicklow in 1906 organised by the Irish Automobile Club, the forerunner to the RIAC was the first home hill climb. It was 1 ½ miles in length and had a steep incline . FTD at 2m24sec went to F.A.Bolton in a Daimler followed home by F.Wilkinson in a Stanley Steam Car. This hill ran for three years and was revived in 1983/84 by the IMRC .
My introduction to motorsport was being taken by my older brother Des to a hill on a sunny summer's day in 1961. I was immediately hooked by the sights, orchestral sounds and Castrol R aromas of real racing cars . Living in south Dublin we had easy access to events that were held in the Dublin and nearby Wicklow mountains. This was the pre-Mondello era. The hill climb championship only began in 1978 so speed events were hill climbs, sprints and the Dunboyne and Phoenix Park circuit races. All events counted towards the prestigious Sexton Trophy considered to be the holy grail of Irish motorsport awarded at season's end to the driver with most points.
In South Dublin and Wicklow there were many hills that sadly are long gone – de Selby's near Tallaght, Mt Venus in Rathfarnham' famous for Kevin Diffley doing a run on a horse when his usual oily steed let him down, and Robin Rennicks having a painful roll in the "big" Leprechaun that effectively ended the car's useful life . MEC ran Altidore at the Glen of the Downs where the Telford trophy was awarded for FTD. Dan McAllister in a F2 Cooper was the first name to be etched on this trophy to be followed by some great names in the sport right up to the present day and I was proud to be included in such illustrious company in 08 and 09. Dan also won the Sexton trophy in 1960. Mount Venus and Altidore suffered the wrath of the local residents because of a certain Cooper driver's wont to indulge in unofficial practice at dawn. It seems the scream of the Coventry Climax engine was not compatible with sweet dreams !
Enniskerry , that lovely village a short hop from suburban Dublin was hosted by IMRC and ran from the late forties. This event was traditionally the season opener and always had huge crowds which made for a wonderful atmosphere and a healthy entry which included karts and motorcycles on occasions. The Meath Cup was the prize and winners included Joe Kelly , MG man Joe Flynn whose son Johnny is still very much involved in motorsport, Tommy Reid , Limerick's Brian Cullen, Frank Keane and Alec Poole in 1966 in a Wolseley Hornet, a car that began life as a standard shopping car and was part of my driver learning experience. Alec was a very talented super quick driver who went on to be the British saloon car champion. A look through an Enniskerry programme from 50 years ago reveals some family names still familiar to us in 2017 , Faulkner , Keane , Griffin , Cullen , Fintan Cunningham father of Gary " the quiet man of hill climbing " and PJ Wilhare in the Firecrest famous for his "is it flat" left hander on Knockalla. He was last seen in Donegal last season in a Chevrolet Corvette.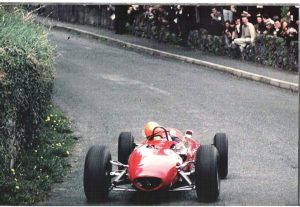 TD Reid in the Mick Mooney IRC Lotus 22 t/c Enniskerry 1965 ( Photo Derek Jolly )
Frank Keane, who has been our overall trophy sponsor for many years, began his professional life in the motor trade like several others in my family, drove DKW saloons in the fifties. He then progressed to the Bobby Newell built "Deek" aluminium-bodied special sports car which passed to me and became my introduction to motorsport. He bought the ex Reg Armstrong FJ Lotus 18 and won the Sexton trophy in 1963. He raced extensively and held records on most of the hills driving Kevin Murphy's beautifully prepared cars such as the ex Jack Brabham F2 Brabham BT18 , ex-team Lotus F2 FVA 48 and the ex-Robin Widdows F2 Brabham BT30 FVA . At 83 years young he still has a "keen" interest and is a great supporter of Irish hill climbing.

Frank Keane drove Kevin Murphy's Brabham BT18 to many hill records.
The Dublin University Mc & Lt Car club ran events at Stepaside in the fifties and winners included Michael Heather in the Jaguar XK120. Cruagh, on the mountain's edge near Tallaght was run from 1964 to 1996 and like many hills at the time catered for both cars and motorcycles. Stan Ryan in a Cooper Climax won the inaugural event and other overall winners were Frank Keane, Brian Cullen, John Pringle, Ken Fildes, Richard Young and Jenny Kennedy the only lady to win the hill climb championship so far.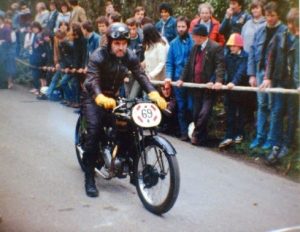 Maurice Bryan a stalwart of the DU club aboard his Rudge at Cruagh.
The MG car club held their event at Callary which is part of the long hill from Killmacanogue to Roundwood in Wicklow. A hill with a steep incline that I know only too well from cycling up it but it really had only one significant corner just before the finish line. Winners include Richie Heely a Malahide Ford dealer in the blown Allard Lotus 31.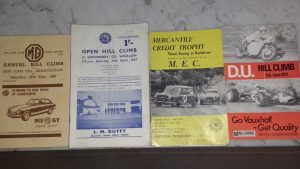 Programmes from the day
MEC also ran a sprint at Rathdrum from 1962 to 1986 on a 0.8 mile triangular circuit. It was too narrow to be classed as a race so cars started at ten second intervals with passing permitted. Winners included GP driver John Watson in a Crossle, Bangor's John Pringle, F1 Cooper Climax , Brian Nelson Crossle , Frank Keane Brabham.
An interesting driver in the 1964 May meeting was the Rt. Hon. Tara Browne , a 19 year old swinging sixties socialite , heir to the Guinness fortune and inspiration for the Beatles song " A Day in The life ".
I read the news today,oh boy
About a lucky man who made the grade
And though the news was rather sad
Well I just had to laugh
I saw the photograph.
He blew his mind out in a car
He didn't notice that the red lights had changed
A crowd of people stood and stared
They'd seen his face before
Nobody was really sure
If he was from the House of Lords
He drove his road-going Lotus Elan with gusto, albeit as I remember with a couple big of spins. However, he went well enough to win the overall handicap for the Mercantile Trophy which no doubt was filled that evening with a magnum of Bollinger and not the black stuff ! Sadly as the lyrics suggest he lost his life a few years later in a road accident in London.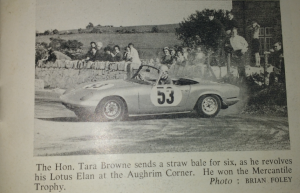 Rathdrum 1964 Mercantile trophy winner Tara Browne Lotus Elan.

Bangor's John Pringle F1 Cooper Climax at Rathdrum in 1965 ( photo Derek Jolly )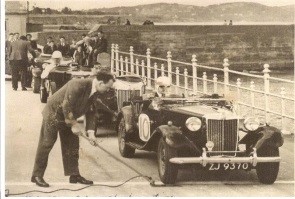 Sprint at Bray 1951
In 1951 there was a sprint on the prom in the seaside town of Bray, Co. Wicklow.
A foray to the north side in 1953 for the hill climb from Sutton cross up the climb to Howth was organised by the MG car club in conjunction with An Tostal as part of their festivities , FTD going to Joe Kelly in the 2 lt Alta Bristol.
Outside the capital we had hills, many no longer in use, and some like the Corkscrew still going strong. This hill has benefited greatly from a full resurface. It was first run by Limerick MC in the 40s and is likely to be the season opener for 2017 in April. Ballyvaughan, as it was widely known in the 60s, now Ballyalaban run by Galway MC was first used in 1964 with FTD to Tommy Reid in the Irish Racing cars Lotus 22 t/c.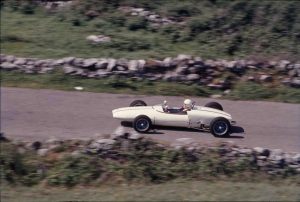 Brian Cullen on Corkscrew in Lotus 20 , the ex Dave Popplewell car, whose son Nick Popplewell was an Ireland and Lions prop in the 1990s. (Photo Derek Jolly )
Limerick ran a short hill near Ballinalacken in 1969 with a FTD time of 38 secs and also a popular event on the Tim Healy pass, a hill familiar to circuit of Ireland competitors.
Farmer's Cross was a hill run in the fifties by the Munster MC and winners include Anto Coleman in an Austin Healy and Cavan man Len Earl in the Vanguard and later in the Jirano .
A Cork speed weekend was a regular favourite with a one mile sprint at Carrickrohane and a hill in Farnanes near Macroom.
In 1966 the Monaghan MC held their first ever speed event with a 1.4 mile hill at Berry's Brae in heavy rain with Richie Heely gaining FTD honours.
Carrick on Suir MC ran a hill at Ballylaneen.
Tipperary MC & lC club held a weekend event with a one mile sprint at Dundrum and a popular hill on the Punchbowl near Clonmel.
Dungarvan, now revived by Imokilly MC after a few years in the wilderness, is one of our longest running hills , first events being in the thirties . Sadly, Billy Telford from Mountrath Co. Laois lost his life here in 1959 driving a Triumph TR2 .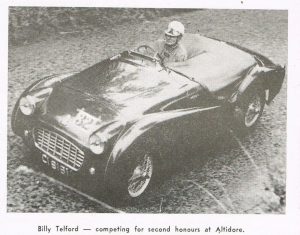 The Kingdom of Kerry hill climb in Tralee was held in 1963 and won by Dan McAllister in the Cooper, however, he had a big off on his last run and badly damaged the car. John Burke in the Gordini was another to come a cropper here, again badly damaging the car and ending up in the local hospital for a short while but made a full recovery.
John Burke in the Gordini.
Richie Heely in the supercharged Lotus 31 Allard on the Punchbowl, Bodywork was damaged in practice. (Photo Derek Jolly )
In 1966 in pre MI days it is worth noting that the cost of a competition licence was ten shillings (50p) and shockingly £1 for non-club members, but I suppose it is all relative and budget was as big an issue then as it is now .
So, as I have said, this article is just short snapshot of our sport over a short period of time , and I suppose a gentle reminder that it has all been done before. Each generation has had its spectacular drivers, heroes and wild men. Everything is different now but fundamentally nothing has changed. So here's to the future and the challenges ahead for the sport, to maintain our unique heritage in tandem with matching the needs of modern competition cars with suitable venues whilst retaining what we can of the past.
As the 2017 season looms and cars are being readied it is good to know that more memories, records and history are about to be made on our hills and perhaps in fifty years' time some kindred spirit will take the time to remember the drivers and venues of the past.
Brendan Keane.