Prize-giving tickets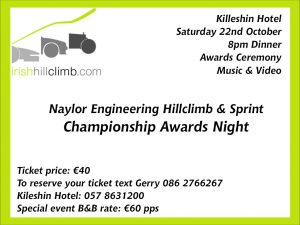 Please text Gerry O'Brien on 086 276 6267 to reserve your ticket.
We're all set for another superb Hillclimb Prize-giving. The only downside is that Rory Stephens knows the band so they may let him join in on drums again. Don't forget your ear plugs…
Motorsport Ireland president, Martin McKenna, will be joining us for the evening, as will our Championship sponsor John Naylor and family.
The Trophies are being gathered and calculations being made…
This year sees a very special addition to the non-Championship awards. The Hogan Family will present the 'Denis Hogan Snr Award' to the best newcomer to Hillclimbing. It will be presented by the Hogan family and is awarded to the highest placed newcomer to our Hillclimb & Sprint Championship. We look forward to welcoming the Hogan family to the Prize-giving.
The Frank Keane Trophy will be presented to the Overall Championship Winner, Joe Courtney.
The Simon McKinley Trophy for Fastest Saloon will be presented to Peter McKinley, who drove the same White MkII Escort that Simon drove to secure this Fastest Saloon title back in 2013.
We look forward to welcoming the Bradley Family, who will present The Colin Bradley Award "For those who have done the most and got the least."
Which competitor will win the Prenderville trophy, presented to the driver whose times improve most over the season?
Who shall win the Spirit of Hillclimb award, kindly presented by On-site Event photography?
The Inter-provincial Cup, sponsored by National First Aid supplies awards the province whose drivers have collectively scored best over the season. Ulster won last year. Will Connaught have a look in this year or will Ulster take it again?
Which club will win the coveted Dick Baily Award for best hill, as voted by Championship Hillclimb competitors?
We hope to see many Hillclimbers, family and friends gather for what always proves to be a very enjoyable evening.
Image with thanks to Caoradubha.com , showing Abbie Naylor presenting 2015 Champion, Joe Courtney with his trophy.