Keep up to date with Hillclimb Masters Sternberk
The 2016 FIA Hillclimb Masters event takes place this weekend in Sternberk, Czech Republic. National Champions and Class Champions from around the world will gather. Here are some links to keep you up to date.
Live coverage will be available online here, Sunday 9th: http://www.hillclimb.tv/
Coverage by our Irish contingent can be seen by JOINING the Facebook group within this link: https://www.facebook.com/Irish-Hillclimb-Sprint-Championship-1580195165532211/
FIA Entry list: http://www.fia.com/events/hill-climb-masters/season-2016/entry-list
Saturday, October 8th, 0800. Deirdre:
"First practice complete! Wow, what a hill!
Waiting to go back down now. All the drivers are so friendly :)"
Saturday Running Order: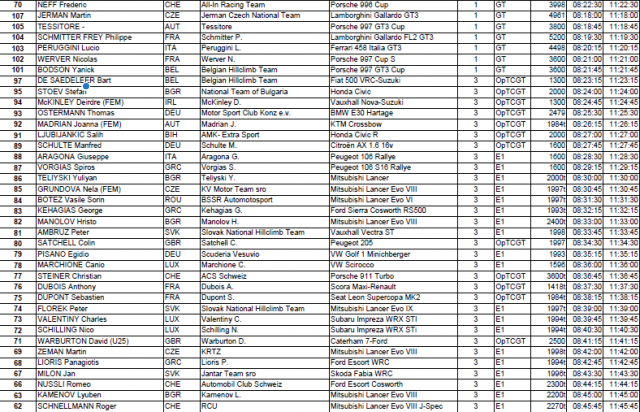 Sunday October 9th 0800, Deirdre:
"Ok, Run 1 of my battle for BVD (Beat Value if the Day/ last) is complete. Great fun!!
There are so many people who I would like to thank for getting us to this special event…
Firstly, my wonderful son Rory. Such a happy little fellow and an amazing traveller! He's loving this whole experience. Which leads me to the next…
Paula Stephens, who hangs out with Rory each time I do a run all season. He's such a lucky boy, to have a friend like you and I can never thank you enough for making it possible for me to continue competing. And to Keeva, Billy and Grandad who are minding him while I drive here. Seeing him so happy and cheering me on – thank you. 💐
And Crew Chief Billy & Mechanic Keeva… you always have the car ready and lovely. Whitey, the constant development and your insightful GoPro tuition are much appreciated.
There are so many others to thank but, for now, I better go chat with the other drivers here at the top of the hill!
😊"