Ten Questions with Paul O'Connell
1. When did you start driving (what age) and what did you first drive (elaborate)?
I drove an International 956xl (2wd) tractor collecting straw bales at 4 or 5 I think. I could only barely push the clutch pedal and just about reach the gear lever to hit it a slap to get in gear. Good tractor for sideways actually…
2. How did you get involved in Motorsport?
I met this fella Denis Hogan in first year in secondary school and became friends. He and his dad, Denis Senior, let me have a go in their 100cc Rotax kart in Kilcornan in Limerick around 1992 or 3 and I was hooked. Spent my life savings on an old Dap Rotax Kart and did four seasons racing before funding issues caused me to retire!!
3. What is your daily driver and what is your competition car for the weekend?
Daily driver is currently a Ford Ranger pickup. But my real road car love is my old BMW 530d (donk). That car took some abuse over the last 250,000 miles…
My current racecars are a 1979 Delta Warrior single seater (AKA Pig), an unfinished bmw e30 v10 (aka Turtle) and of course the BMW 530d racedonk.
4. What is your occupation?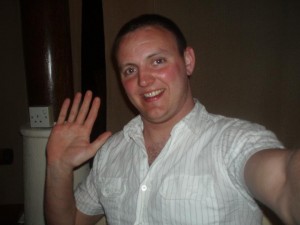 When I started first I was a student in college. I now run an animal feed factory in Castlemahon in Limerick called Crecora Mills. I also farm a wee farm in Limerick and drive the odd truck, forklift, tractor, combine etc.
5. What is your highest achievement to date in Motorsport?
Winning the National championship in 2007, 08 and 09. Winning Ballyalaban was special and beating the big boys in Knockalla in the wet in the 1979 Delta.
6. What is your favourite thing about Hillclimbing?
The great friends I have made over he last 15 years from all walks of life. Seeing so many parts of the country I would never have seen otherwise. The funny times, the hilarious memories (usually my face hurts on Sunday evening from all the laughing!), the unbelievable stories, the no holds barred competition for thousandths of a second and the unbelievable attitude of Hillclimbers to help each other out. I don't know how many times my closest competitors have helped me out and vice versa. I've tried other forms of motorsport but Hills are where my heart is.
7. What car would you most like to drive on a hill?
That's a tough one. My criteria are simple: Anything that's rear wheel drive, can spin the wheels in all gears, can be thrown around easily and kind of scares you when you are sitting on the start line… No traction control, no ABS, no flappy paddle gearbox and no interference from computers. "Either drive it or get out" is my motto.
8. Who is your Motorsport idol?
Denis Hogan senior followed closely by Donal Griffin. Denis because he is as young today as when I met him 20 years ago, a great example to a young lad and he still drives and gets the most from life at the north side of 70 and Donal because he is single minded about motorsport engineering and driving. He suffers no fools and his phrase "the throttle pedal is adjustable" is always in the back of my mind.
9. What are your hobbies outside of Hillclimbing?
I spend my time trying to race uphill in motorsport or downhill Skiing. Great fun and a great rush if you Ski with my lack of talent. Big fan of Munster rugby and always took a lot of heart from how they came back from major setbacks to achieve their goals. As everyone in motorsport knows Its not all fun and games there is plenty of blood, sweat and gear oil involved.
10. If you were stuck on a desert island, what three things would you need to bring with you?
Hmm…
A do it yourself airplane kit to see if I could fly without any lessons. (it can't be that hard surely!)
A big beer cooler.
A satellite phone!
11. Is there anyone you want to thank (Marshals, Sponsors, etc.)?
I thought it was 10 questions, eh? Typical Hillclimbers always looking for another run!
I'd like to thank my wife Ciara for putting up with the ups and downs of motorsport for the last 10 years, my family for the same. The countless marshals and organizers over the years that give us these great events for no reward only the love of the sport. My sponsors Bank Of Ireland Mortgage department,  although they might be surprised to hear they are my sponsors! My friends Denis, Eoin, Simon, Senan, Des, Steve and everyone else I forgot for the help in the garage late at night and supply of assembly fuel (Beer) and all the Hillclimb family for making the sport friendly, competitive, fun and great experience.