Regs available for the 2014 Limerick motor club sprint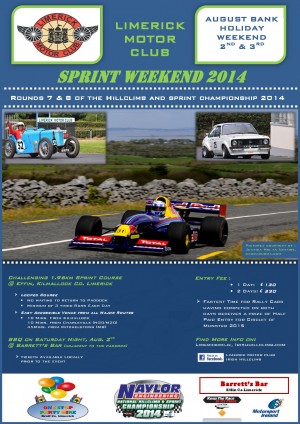 The motorsport highlight of this year's August Bank Holiday weekend will be the club's sprint at Effin, Co. Limerick. Clerk of Course, James O'Rourke, has found a challenging 1.96 kilometer course that will be used on Saturday and Sunday. Both days will be counting rounds of the 2014 Naylor Engineering Hillclimb and Sprint Championship.
Hillclimbs and sprints have been part of the club since 1948, when the club's first ever event was a hillclimb at Gallows Hill in county Clare. The Corkscrew hill near Ballvaughan was a regular venue from 1950 to 1969. Club member Brian Cullen had many victories on the Corkscrew in the 1960s. The club concentrated on other things in the 1970s 1980s and 1990s. Denis Hogan Senior was instrumental in bringing back hillclimbs and sprints to Limerick in 2000. This brought a new generation of club members to the sport, culminating with Crecora man Paul O'Connell winning the national championship three times from 2007 to 2009.
An added bonus this year is the best rally car over two days will receive a 50% discount for the 2015 Circuit of Munster rally.
For further information email 2014sprint@limerickmc.ie or comment at www.facebook.com/limerickmotorclub
Article by: Gerard O'Connor