'Mother' C-Type for Cultra Hillclimb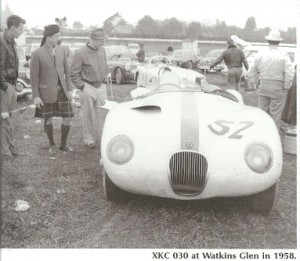 Jaguar XKC-030 will make its European competition debut in the North  Down Tourism supported TSCC Speed Hillclimb Competition at the Ulster Folk and Transport Museum's Cultra 2014 Event on Saturday 14th June, driven by experienced historic racer and preparation expert, David Brazell from Towcester.
The car was supplied to a Mr. David Hirsch in the USA in time for the 1953 Sebring 12-Hour Race where it finished fourth, driven by Bob Gegen and Harry Gray. Changing hands on a regular basis it would go on to establish one of the longest known continuous competition histories of any car and remain unrestored whilst being lovingly maintained and repaired. Because of this long history and lack of major restoration, it became recognised in America as the definitive example of a racing C-Type and earned the nickname 'Mother'.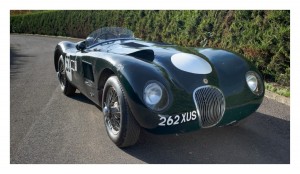 Over sixty years in the USA it competed in a race or speed event every year, often 10 to 20 times a year, up in to the 'Teenies'. Two years ago it was purchased by a European classic/historic/vintage car collector and has been sympathetically re-furbished by Brazell Engineering Ltd. Its new owner has determined that the car will remain in its "well patinated", to quote Brazell, original condition and be used as often as necessary to maintain that incredible continuous competition record. To that end the owner has charged David Brazell with giving the car a competitive 'shake-down' at Cultra, ahead of embarking on the next chapter of its Historic Sports Car Racing career.
TSCC President and Cultra Event Co-ordinator William Heaney commented :- "When WRC driver Kris Meeke attended Cultra Revival 2010 we envisaged the Event growing around star celebrities and guests, as last year with Louise Aitken-Walker and Rosemary Smith. Instead, really significant cars have become the stars, often late in the planning process. Following the Crossle Mk3/No.1, the Ferguson P99 & Jensen FF's in our first two themed event years, we had the 'Festival of Britain' Allard and McCandless sports car last year. Now we are to be honoured by the presence of a sports car icon, we're absolutely thrilled to have XKC 030 at our Event".
Mark Kennedy, Curator of Road and Rail Transport at the Museum added, "The Museum is honoured to welcome such a famous and original C type Jaguar to Cultra. Seeing this car in action will bring back memories for anyone who recalls Stirling Moss winning in a C type at the Dundrod circuit in 1951."