Ten Questions with Rob Dwane
1. When did you start driving (what age) and what did you first drive (elaborate)?
I was about 5 years old when I first started to drive a car. Had
driven karts before this. My father thought me to drive in his Peugeot 405 Estate on a beach in west Clare.
2. How did you get involved in Motorsport?
Got involved in motorsport from a very young age. Always competition cars around the house when I was growing up when my father was competing. Used to go to events with him when he was competing. Also went used to spectate the rallyists around Munster. In 2011 started photography and followed the championship for three years. Then started competing in 2013 in the Mini.
3. What is your daily driver and what is your competition car for the weekend?
I would have to say my Raleigh bicycle is my daily driver as I am
only 17 and yet to start my driving lessons in the summer. Competition car is a Falcon Mini 1.4 8v
4. What is your occupation?
5th year student in St. Joseph's Secondary School Tulla.
5. What is your highest achievement to date in Motorsport?
Highest achievement in Motorsport so far is 1st Overall in my very
first motorsport event, Cork Rallysprint 2013. Won by over 47 seconds.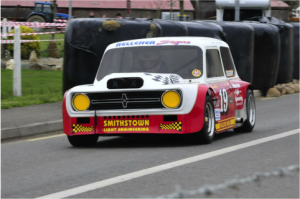 6. What is your favourite thing about Hillclimbing?
Tough question. It would have to be either the extremely close
competition going down to milliseconds for positions or the generally the craic had with all the Hillclimbing community during and after an event.
7. What car would you most like to drive on a hill?
Light weight OMS with a V8 busa.
8. Who is your Motorsport idol?
Motorsport idols Colin McRae, Michael Schumacher, Kimi Raikkonen and my Dad.
9. What are your hobbies outside of Hillclimbing?
Karting, Cycling and generally messing around with anything with an
engine.
10. If you were stuck on a desert island, what three things would you need to bring with you?
Is that a threat?
Finally, is there anyone you want to thank (Marshals, Sponsors, etc.)?
Thank you to my parents for their support. A huge thank you to my
father, Ger Dwane, who has helped me through the years and thought me everything I know about cars, mechanics and a bit of driving. And for letting out his pride and joy to be played with by his son. And thanks to the hillclimb community too.