April 2014 Wexford Hillclimb Review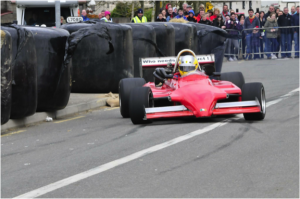 With a great entry for the event, the question on everyone's mind was whether or not anybody would be able to catch Simon McKinley in his Lant.
As drivers lined up for the first run of the new year, it was clear that Simon was out to set a benchmark early, going three seconds quicker than his closest competitor and he was only looking to get quicker.
At the end of the first day in Fethard, Simon won by over four seconds. There was a great battle for second place, which ended up in a tie between Rory Stevens in his beautiful Radical SR8 and Robert Bell who was putting his winter upgrade to good use.
Fourth went to the fastest saloon driver,  Eanna Carroll, in his lighting quick Honda Turbo Civic. Eanna is really getting to scratch that itch after the long Winter lay off.
Fifth was Thomas Rafferty in his rallycross Fiesta. Sixth was young gun Robert Dwane in his Falcon Mini. James Doherty was seventh and Peter Boggan in eight in his Escort. In ninth place was Keith Power in his Clio and tenth went to Brian Ledwith.
Class Winners for Saturday: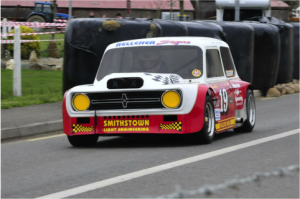 Class 1 went to Gary Cunningham in his Fiat Punto
Class 2 went to James Doherty in his Starlet
Class 3A went to Robert Dwane in his Falcon Mini
Class 3B went to Eanna Carroll in his Honda Civic
Class 4 went to Mick O'Shea in his MGB
Class 5 went to Jim Keating in his Vee
Class 6 went to Robert Bell in his Crossle R1
Class 7 went to Rory Stephen's in his Radical SR8
Class 8 went to Keith Power in his Clio
Class 9 went to Niall Fortune in his MK2 Escort
W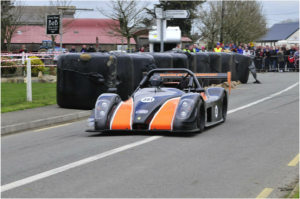 ith the chat of Saturday night over and Rory "Grandad" Stephens leaving everyone with an itch, Sunday morning saw the event move to a new venue in the village of Carrick. Large crowds lined the course before the first run. Simon was first out of the box and set the pace early. Unfortunately, Rory Stephens suffered clutch failure in the Radical. Robert Bell had a minor run in with a round bale on the practice run. Out of sight in first place, Simon set a blisting pace seven seconds clear of second Eanna Carroll in second place. A great run by local legend Peter Boggan saw him bring his Escort home in third. Fourth place went to Emmet Dunne showing good pace in his Van Dieman. Fifth was Robert Dwane in his Falcon Mini followed closely by James Dorerty in his Starlet in Sixth. Thomas Rafferty took seventh and Eddie Lyons in his Escort Cosworth took eight and Ninth went to Keith Power in his Clio and tenth place went to local man Leon Galvin in his Escort.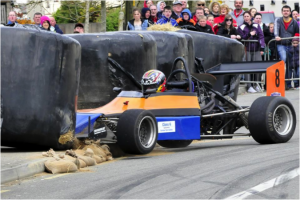 Class winners for Sunday:
Class 1 went to Gary Cunningham
Class 2 went to James Doherty
Class 3A went to Peter Boggan
Class 3B went to Eanna Carroll
Class 4 went to Mick O'Shea
Class 5 went to Eugene French
Class 6 went to Emmet Dunne
Class 7 went to Thomas Rafferty
Class 8 went to Keith Power
Class 9 went to Niall Fortune
Article by: Brendan Harpur