Book of Interest: Motorsport Explorer
We thought this book might be of interest to some of the competitors as a number of Irish venues and drivers are mentioned. Here is an overview provided by the author, Julian Hunt.
MOTORSPORT EXPLORER
Over 800 historic locations to discover and visit in the British Isles
The book aims to identify and locate race and speed event courses in the whole of the British Isles for the first time; The book points out local speed events which could be celebrated as anniversaries of events come along; Includes information on events that nearly happened or courses which were planned and didn't get built; Illustrated by many photographs which have not been published before.
From the free-wheeling early days through to the safety-conscious events of today, the book catalogues and locates all the race circuits, hillclimb and sprint courses and speed trial or drag race venues in the British Isles. The thread of the book takes the reader from the first horseless carriages, through the thunderous city-to-city racers and Grand Prix cars which ran on the country roads, beginning at Athy in 1903 and the development of the track at Brooklands and onto the sophisticated modern cars which are raced, hill climbed and sprinted every weekend all over these islands off the coast of Europe.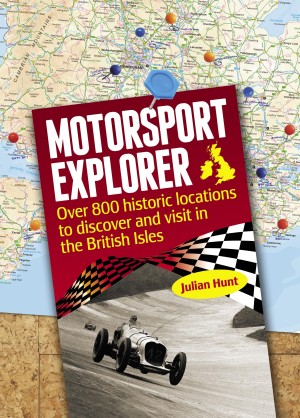 In the earliest days rich men and women indulged their passion for speed and then factories built cars that could "win on Sunday and sell on Monday" as way of marketing and developing their cars. Enthusiasts built their own Specials with which they hoped to beat the manufacturers, and sometimes succeeded. Famous drivers like Count Zborowski, who built Chitty-Bang-Bang; Malcolm Campbell who would go on to break the land-speed record; Henry Segrave who raced to earn a living, drove the latest Grand Prix cars; Raymond Mays who invented commercial sponsorship and later conceived the idea of the BRM, Tony Vandervell who built the World Championship winning Vanwalls and Colin Chapman of Lotus are amongst the many famous names who took their first steps on these course and we can follow in their wheel tracks.
About the author Julian Hunt
His father owned 'proper' cars, so inevitably he became a motoring enthusiast. He spent too much on motoring books and instead of racing, marshalled at VSCC speed events. In 1993 he acquired an Austin Seven rolling chassis and built it into a car, which will be completely finished one day. Now the book is written, he and his wife are looking forward to settling back into retirement. This Julian Hunt is not, and never has been a Professor of Climate Modelling, an Architect, a Barrister or a Photographer. He is one of the luckiest men you will meet and married with two grown-up sons. One day he aims to visit Ireland.