Kirkistown Sprint Review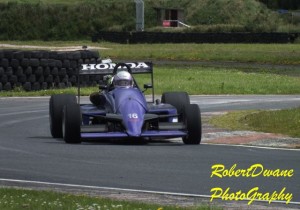 This year saw a new venue added to the calendar, with crews heading North for rounds 9 and 10 of the Connaught Competitions Engines Hillclimb and Sprint Championship which was held in Kirkistown.
On Saturday Sylvie Mullins topped the Irish drivers, with Simon McKinley following close behind, hoping for a slip up from Mullins in his powerful Gould. But it was not to be, Mullins finished a massive 4 seconds ahead of McKinley and Joe Courtney in his Hornet coming a distant third. Neither man could match Steward Robb in his big Pilbeam Judd coming out on top of the time sheet both days. Sunday saw Mullins top of the Irish drivers again with McKinley and Courtney in second and third again.
Class 1 sponsored by the Daly Family saw Brendan Dawson in his Civic top of the class both days, with Neill Bradbury taking second on Saturday and Aidan Courtney bagging third. Courtney improved to grab second in class on Sunday with Senan O'Connor grabbing third with both hands. Class regulars hit trouble early over the weekend with the mini of Trish Daly blowing a engine and Elaine O Reilly mini's gearbox letting go. Hopefully they will be back for the next round in Donegal.
Class 2 sponsored by the Galway Motor Club was a lonely weekend for Declan Cundelan winning his class both days in his MK2 Escort.
Class 3A sponsored by Quinn Motorsport saw a great battle with Seamus Hobbs taking the class win on Saturday from Ian Quinn and John Whitley taking 3rd, Quinn was to take the win Sunday with Hobbs in 2nd and Vincent Derry grabbing 3rd.
Class 3B sponsored by Donegal Motor club was won by Rory (Granddad) Stevens on both days, second went to Neil Anderson on Saturday but a spin on Sunday damaging his front wing meant he could only get 3rd on Sunday with a great drive from Alex Wilsdon Jnr taking 2nd on Sunday and Eanna Carroll grabbing 3rd on Saturday.
Class 5 sponsored by Wexford Motor club was won by John Hendy followed by Enda Kennedy in 2nd and 3rd went to Eugene French on Saturday. Sunday saw a change with Enda taking 1st followed by Eugene French and Ger O'Connor taking 3rd.
Class 6 sponsored by Carnew Tyre Centre was won by Joe Courtney both days with John (Con) Byrne 2nd and John Mahon grabbing 3rd both days.
Class 7 sponsored by Crecora Mills saw no change both days with Sylvie Mullins 1st Simon McKinley in 2nd and David Cullen taking 3rd.
Class 8 sponsored by Carlow Car Club went to Georgie Bell both days.
The next and final rounds of the Championship in Donegal in September promises to be a titanic battle between Mullins and McKinley for overall honours. With some classes still up for grabs, it is still all to play for in the hills of the Donegal. We hope to see you there!
Article By: Brendan Harpur Championship PRO