Mullins and Byrne share the spoils in Carlow
Rounds 7 & 8 of the Connaught Competitions Engines Hillclimb and Sprint Championship were held by Carlow Car Club. This year saw a change of venue for Saturday with a challenging new course at Kilrush Airfield.
With practice run complete, the action got under way. It was clear that Sylvie Mullins in his Gould had only one aim for the day – to get a win on the board. However he was going to have to work hard for it as Paul O Connell and John C Byrne were in fine form and were pushing hard.
Mullins succeed in winning the event on the last run with a time of 58.47 sec followed by John C Byrne in his Jedi with a time of 59.99 sec. This was a great achievement for John, who only finished rebuilding his car on Friday night after his off at the last round of the Championship. Paul O Connell finished in 3rd with a time of 1:00.43 showing his problems at last have been sorted and the car is heading in the right direction. In 4th position was Neil Anderson with a great drive in his Ward. 5th place went to David Cullen with the newly acquired Delta T85 followed closely in 6th by Mark Cullen in the same car. Its look like we will be seeing great things from the two guys when they get to grips with their new car. 7th position went to Brendan Keane in his Swallow. 8th was newcomer Richard Davis in his R1 OMS. 9th went to John "The Stig" Mahon in his DJ ADSI, showing a good run of form this year and 10th went to John Hendy with a great run for his first time out in a loaned Formula Vee.
With the championship leader missing this weekend, Mullins needed the win to claw back ground day 1, but could he repeat on day 2 to maximise his points?.
On Saturday Class 1 sponsored by the Daly Family went to Elaine O Reilly in her Mini, 2nd went to Brendan Dawson in his civic with Trish Daly grabbing third in her Mini.
Class 2 sponsored by The Galway Motor Club went to James Doherty in his Starlet, 2nd went to Declan Cundelan in his Escort with Kieran Curran picking up the trophy for 3rd.
Class 3A sponsored by Quinn Motorsport was won by Seamus Hobbs in his Maguire Mini, 2nd went to Ian Quinn in his Mini Busa after he rolled in the first timed run. Ian was also awarded the spirit of the event award for his persistence all day. 3rd went to John Whitley in his VW Golf.
Class 3B sponsored by Donegal Motor Club went to Neil Anderson in his ward. 2nd went to Neil Perry in his Ford Sierra and 3rd went to Mark Mangle in his Subaru.
Class 4 sponsored by The Motor Enthusiasts Club went to the one and only Frank Nutall in his Graham Pre 55, 2nd went to Paul Dalton and 3rd position went to Dermot Carroll.
Class 5 sponsored by Wexford Motor Club went to John Hendy in his 1st ever outing in a John Mahon prepared Vee, followed by Enda Kennedy in the same car. 3rd went to Ger Byrne in his Vee.
Class 6 sponsored by The Carnew Tyre Centre went to John C Byrne in his Jedi. 2nd place went to Richard Davis in his OMS and 3rd went to John Mahon in his DJ.
Class 7 sponsored by Crecora Mills (with the overall winner in a Class 7 car), 1st goes to Paul O Connell, in 2nd is David Cullen and 3rd position went to Mark Cullen in there Delta T85.
Class 8 sponsored by Carlow Car Club went to Thomas O Rafferty in his Corsa, 2nd went to Georgie Bell in his civic. 3rd was Fergal Bowes in his 205.
Class 9 went to Frances Kelly in his Corsa, followed closely by Patrick Donoghue in 2nd and 3rd going to John Hade in his Escort.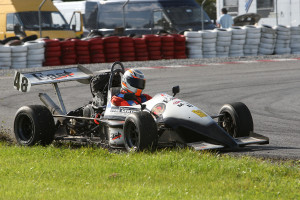 Sunday morning moved over to Bagenalstown and the rain followed as the practice run started, the rain fell making conditions treacherous, but Sylvie set to business early setting the fastest time on run 1, with Paul 2nd and Neil Anderson taking a great 3rd. But times were getting quicker as conditions improved slightly. With Sylvie going quicker, setting a time of 42.12 and Paul O Connell setting a time of 43.21 it looked like Mullins had done enough for the day, but John C Byrne in the Jedi went on to set a time of 40.83 blowing the competition out of the water by winning his first championship round.
Class 1 went again to Elaine O Reilly. 2nd went to William Power. 3rd went to Trish Daly.
Class 2 went Declan Cundelan's way this time with James Doherty picking up 2nd giving Kieran Curran 3rd.
Class 3A went to Vinnie Deering, 2nd to Ian Quinn, 3rd to Seamus Hobbs.
Class 3B went to Neil Anderson, 2nd went to Denis Hogan and 3rd to Noel Greene.
Class 4 was taken by Frank Nutall again, with Sean Murray in 2nd and Mick O Shea grabbing 3rd.
Class 5 was won by Enda Kennedy. 2nd was Eugene French. 3rd was Ger O Connor.
Class 6 was won by Richard Davis. 2nd was John Mahon and 3rd was Edwin Rynhart.
Class 7 was taken by Sylvie Mullins. 2nd was Paul O Connell and 3rd was Mark Cullen.
Class 8 went to Jason Ryan. 2nd was Thomas O Rafferty and 3rd was David Dowling.
Class 9 went to John Hade this time, with Jack Deegan in 2nd and John Murphy in 3rd.
With the next round joining forces with British sprint rounds in Kirkistown, it is anyone's guess who will come out on top.
Article by: Brendan Harpur.