Kirkistown Sprint Weekend Regs Available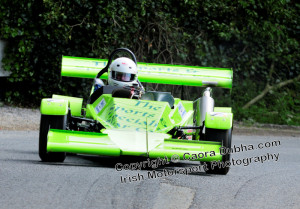 After the jubilant return of our overseas competitors and the rest of us have had a chance to dry out after round 8 of the Connaught Competition Engines Hillclimb and Sprint Championship it is time to turn our attention to another landmark event in Irish hillclimbing.
The upcoming Sprint weekend in Kirkistown promises to be an epic encounter. With competitors from republic of Ireland, our Northern brothers and sisters and a healthy contingent from across the UK.
The Kirkistown track is run by former Irish hillclimb champion and multiple hillclimb record breaker Richard Young. Richard and the British sprint co-ordinator Paul Parker have been looking forward to getting all the sprinters together for such an event for many years and it promises to be a weekend of great competition, comraderie and craic.
For competitors in the Connaught Competition Engines hillclimb and sprint championship there are a few points to note in preparation for the trip up north.
The Regs and entry forms are available to download below.
Please be sure to have your entry in by the closing date as the event will most likely be oversubscribed and you may be disappointed. All valid entries submitted by the closing date will be accepted.
You will have to fill out two entry forms, one for each day.
On your entry form you may put in your usual relevant Irish class number (ie irish class 3a) but please be aware that on the day for timing purposes you will be put into the class structure used by the organisers in Kirkistown. Please enquire from the scrutineer which northern class you should be timed with.
Awards will be presented at the end of the day using our own class systems and championship points will be awarded as usual.
There is a noise restriction in place for environmental purposes so those of you with very noisy cars will have to make an effort to quieten them. Noisy drivers will be tolerated as usual! See regs for more details.
Beam breakers are compulsory and a car will not pass scrutiny without a beam breaker fitted. See the hillclimb section of the "Green Book" for exact specifics.
We hope to see you all there!
2012 500 MRCI June 30th Entry Form (820 downloads)
2012 500 MRCI July 1st Entry Form (693 downloads)
Article by: Paul O'Connell