McKinley beats them all in the Naul.
Round 5 and 6 of the Connaught Competition Engines Hillclimb and Sprint championship.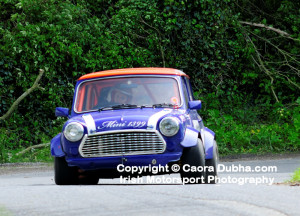 After the epic battle between the main title contenders in Sylvie Mullins back yard in Ballyvaughan just 4 short weeks ago it was Simon McKinley's turn to welcome all comers to Dublin. Situated in the rolling countryside of North County Dublin the Naul venue proved a challenge to most competitors and a bit too much for some! Saturday started off dry and the action started in the early afternoon. It was first blood to Simon McKinley in the Lant after run 1 with a time of 38.6 1with Sylvie Mullins getting acquainted to the new venue in his Judd engined Gould on 39.71. Paul O'Connell was behind Mullins having finally cured the Electrical problems that had plagued his start to the season on 40.91. Joe Courtney continued to show great pace keeping the bigger cars honest on 41.15 followed by John Byrne in the Jedi on 43.55. As the runs progressed the picture stayed the same as the times fell but the order remained the same. By the final 4th run it was McKinley who emerged victorious with a 37.29 second run as set on his 2nd run. Mullins struggled to tame the 600 bhp Gould on the narrow course and finished on 38.71 with O'Connell having lost the use of 3rd gear earlier in the day on 39.57. Joe Courtney in the OMS Hornet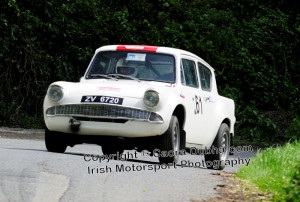 finished on a 40.80. John Byrne in the Jedi found that the force was not worth him for once as an unplanned trip to the scenery on run 4 took him out of the running. He ended up 5th overall on 41.68. Brendan Keane returned to competitive action in his Swallow and put in a solid time of 42.01. Rory Stephens in the fire breathing radical endured some mechanical woes early in the day but coaxed the turbo radical to a time of 42.44. Neil Anderson in the bright green Ward sports libre was hard on Stephens' heels on 42.78. Dermot Nolan had another double driver this weekend in the Connaught Engined Reynard in the shape of Russell "JR" Stanworth. Nolan had the beating of Russell with a time of 43.83 with Stanworth outside the top 10 in 12th on 44.32. Rounding out the top 10 was Galway's Eanna Carroll in his Turbo Civic who was again fastest tin top on a time of 43.99.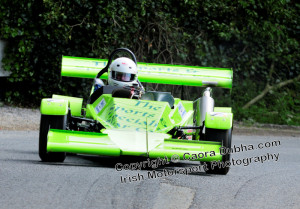 Class one was missing Ray Cunningham this weekend and was won by Elaine O Reilly in her mini beating fellow lady Trish Daly by a mere 0.54 of a second. Class 2 was won by Declan Cundelan in his yellow Mark2 Escort. Class 3a spoils went to Ian Quinn in the MiniBusa despite gear change cable problems. Class 3b was won by Rory Stephens ahead of Neill Anderson. Fastest in the popular historic class4 on scratch was the evergreen John Farrell making a welcome return in the sideways Escort MK1. Class 5 was won by Eugene French in the Formula Vee ahead of returning Ger O'Connor. Class 6 spoils went to Joe Courtney, and class 7 went to Simon McKinley. Class 8 for smaller engined rally cars was won by Hillclimb debutant David Donoghue in his Citroen C2 while class 9 spoils went to Patrick Donoghue in the Peugeot 205 GTI.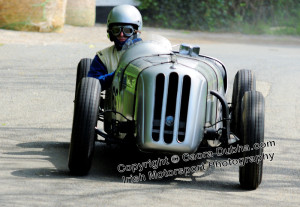 On the dawning of a new day on Sunday again we were blessed with dry weather if a little cold due to the brisk wind. Again Simon McKinley was quick out of the traps with a time of 37.25 just under his fastest time on Saturday. He would fail to improve on this as the day progressed after breaking a gear on run 3. Mullins put in a banker run of 38.78 but was looking for a better return on his interest when he ran into trouble shortly afterwards with a sticking throttle cable. After fitting a replacement cable he completed run 4 with a time of 38.30 just over a second behind McKinley. Paul O'Connell continued his testing regime and despite gear change troubles put in a time of 39.28 before deciding to call it a day and return home to the workshop. Joe Courtney again was highest placed Motorcycle engined car on 39.84 edging closer all the time to the bigger cars. Rory Stephens improved on Sunday in the turbo Radical to 41.72 and 5th overall. Neill Anderson in the Ward was close behind on 42.20 while Brendan Keane recovered his confidence from a spin at the final corner on Run 1 to finish 7th overall on 42.58. Russell Stanworth shook of the rust after his long layoff and gave Dermot Nolan a good battle for double drive honours. Still Nolan came out on top 8th overall on 42.71 with Stanworth on 42.85 in what must be the hardest worked single seater in Irish Hillclimbing. Rounding out the top ten again was Eanna Carroll in the 420 bhp Turbo Civic, again fastest tin top and getting more confidence in the new radial tyres he is running.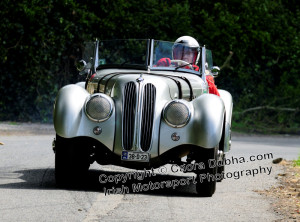 In the Class 1 battle Elaine O Reilly again came out ahead of Trish Daly although by a slightly bigger margin. Aidan Courtney had the advantage over Senan O'Connor in the Cinquecento battle. Here is hoping Aidan's upcoming Leaving Cert Exams go as well as the Fiat. Class 2 was won again by Declan Cundelan in the Mark 2 Escort. Despite having no class opposition Declan targeted Denis Hogan's BMW M3 as likely opposition and just pipped him on the timesheet. Class3a was won again by Ian Quinn in the MiniBusa having repaired his gear change cable he buzzed his way to a time of 44.84. The well supported Class 3b was won by Rory Stephens again ahead of Neill Anderson in the Ward. Fastest class 4 competitor was John Farrell again followed closely by Bernard Foley. Class 5 spoils went to Ger O'Connor in the formula Vee who is hoping to be out for the remaining rounds of the season. Class 6 honours went to Joe Courtney who was followed by the evergreen rapid John Mahon in the DJ. Class 7 was won by Simon McKinley in the Lant ahead of Sylvie Mullins.
A special mention to the Historic competitors who made up a sizable number of the field. It was great to see such a wide array of competitive machines and competitors attending the oldest form of motorsport in the country.
The next event will be the Carlow Car club weekend on the Whit weekend so keep your eyes open for entries for this ever popular event.
With McKinley reputed to be returning to France on the weekend to showcase Irish Hillclimbing will it mean Sylvie Mullins will be able to make up ground in the title race and force the Dubliner into a fight to the last round in Donegal? It promises to be a fascinating conclusion the season.
Article by: Paul O'Connell
Photos: Billy @ Caoradubha.com