Carlow Hillclimb Weekend Preview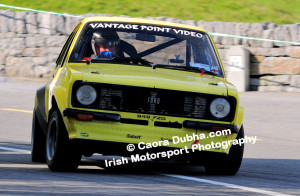 The June bank holiday weekend is just around the corner, when rounds 7 and 8 of the Connaught Competition Engines Hillclimb and Sprint Championship will be hosted by Carlow Car Club. This weekend sees the action move to a new venue at Kilrush Airfield on Saturday and then back to an old favourite in Bagenalstown on Sunday.
Kilrush Airfield is a tight and challenging run, which should suit John Con Byrne's lighter more nimble Jedi. John has been working every hour god gives him to get the Jedi back together in time for the weekend.
With Simon McKinley away in France for the weekend to show the French what Irish Hillclimbers have to offer, Sylvie Mullins will be looking to claw back the ground he lost in the last few rounds.
On Sunday, the action moves to a fast and flowing sprint at Bagenalstown where big power is sure to shine. Historically, Carlow has always been a sunny weekend, fingers crossed it will be the same this year! We hope to see you all there.
Directions to Kilrush Airfield –Saturday 2 June 2012
From Athy, take N78 towards Kilcullen. Approximately 5 miles from Athy there is a turn right (L801). Kilrush Airfield is approximately 1 mile up this road on the right hand side.
The coordinates to the airfield are as follows:
DMS: N53′ 03′ 45.3 W006′ 51′ 08.8
Decimal: N53.062583 W6.852444
Google Maps
The coordinates for P.Conlan's Pub (3 km from airfield)  where we have permission to park on Friday night if required are as follows:
DMS: N53′ 03′ 54.8 W006′ 55′ 05.2
Decimal: N53.065222 W6.918111
Google Maps