Do your bit for Road safety
Following the launch of the Motorsport Ireland road safety initiative "Keep the race in its place" All competitors should have been issued with 2 road safety "Keep the race in its place" decals.
President of Motorsport Ireland, Joe Corcoran, urged all competitors to display the logo – which will be provided by post – on both sides of their competition vehicles throughout the year ahead.
Alex Sinclair, Chief Executive of Motorsport Ireland, said; "We know that in Ireland young people, and especially young males, are much more likely to be killed on the roads. We also know that motorsport is hugely popular, with fans turning out in their tens of thousands to support our national and international events. Motorsport Ireland is committed to promoting road safety and this initiative will contribute to both the national and global campaigns to save lives on our roads."

"All participants in motorsport across Ireland will now display the Road Safety Tag as a visual message to all those watching our sport to keep the race in its place. Every Motor Club across the country will be appointing a Road Safety Officer to coordinate activity to support this campaign in their community, while we will also be rolling out signage that will be visible at all our events across the country to keep the message in the front of everyone's mind."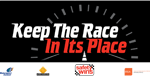 We would ask you all to display these decals and if you do not have any please contact your motor club to obtain some or alternatively Motorsport Ireland. There will be some available at the forthcoming MEC event.