Clare & Galway Motorclub Press Release
Clare & Galway Motor Clubs Hillclimb Weekend 2011
Rounds two & three of the "Connaught Competition Engines Irish Hillclimb & Sprint Championship 2011" kicks into action this coming Weekend April 16th and 17th in North Clare. This year's 14 round Championship takes place over seven weekends taking in some of the most scenic parts of Clare, Galway, Wexford, Limerick, Tipperary, Wicklow and Donegal and the events bring a much needed boost to the local economy with demand for accommodation, food and
entertainment.
For this year The Clare Motor Club have teamed up with the Galway Motor Club to co promote one hillclimb weekend which is based in Ballyvaughan. The clare club will run the Corkscrew Hill on Saturday under clerk of the course Dermot Kelleher from Clarecastle while Sunday's hill Ballyallaban will be run by the Galway Motor Club under clerk of the course Joan Vaughan from Ballyvaughan. This will give competitors a great opportunity to compete
on two of the best and most challenging hills in the hillclimb championship series.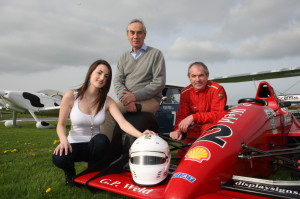 "Logue's Lodge", Ballyvaughan have stepped in as the main sponsor of this year's event and the club are very grateful to Alan for his generous sponsorship. A special weekend menu will be available each night over the weekend including prizegiving, video footage of each day's action and music till late.
All the championship contenders will attend including current Hillclimb champion Simon McKinley driving his Reynard 873 connaught. Other drivers who have entered and will be fighting for overall victory include Limerick's Paul O'Connell, Clare's Sylvie Mullins and Donal Griffin. Galway's Frank Byrnes has also entered. There will also be a big turn out in the Rally Car Classes with Clare & Galway Motor Club members fighting for positions in the various classes.
The Wexford Motorclub hosted the first two rounds of the Championship 2011 near the seaside towns of Fethard and Duncannon in the Sunny South-east. Paul O'Connell set the pace on the first run driving his older car the Delta T79, his Pilbeam is still being repaired since it's Donegal crash. Simon Mckinley was unfortunate to catch a loose stone in the timing belt of the Lant RT2 during the Practice Run, putting the car out of action, so he double drove Dermot Nolans Reynard for the rest of the weekend. It only took him until Run 2 to set the fastest time of the Day in that car. O'Connell was also overtaken with the Return of the Jedi of John Byrne on Run 2. Paul went quicker than that time on the final run, but John was quicker again on three. David James leap-frogged both of them into second overall for the day in a very modified Mitsubishi Evo. Brendan Keane was fifth in his graceful Swallow. Simon broke a wish bone in his car on Run 3. McKinley would spend the evening repairing it, fit for the next day. Day two saw Simon McKinley set fastest time with Paul O'Connell finishing second and John Byrne third.
Event secretary for the Clare / Galway event is Aisling Grimes and Aisling can be contacted on 086-2626477 between 6.00pm and 9.00pm.
Optional Mechanical & Document Scrutiny will take place at the Ballyvaughan Filling Station, Ballyvaughan on this Friday evening 15TH. April between 7.00 and 9.00pm. There will also be Mechanical & Document Scrutiny in the
paddock of both hills between 8.00am and 10.00am.
Prizegiving will take place on Saturday & Sunday Evenings at Logues Lodge, Ballyvaughan and will be followed by music and entertainment. Meals will be available all day in the restaurant.
Entry forms are now available to download from both club websites – www.claremotorclub.com Or www.galwaymotorclub.ie
A couple of things to bear in mind for the weekend.
Please be courteous and polite to officials and marshalls. These people give their time willingly to make this weekend a sucess and without the hard work from these volunteers we would not have a hillclimb.
Be careful of your surroundings. The Burren is a a very fragile place and some of the plant life that exists there is not seen anywhere else on the planet, so please be careful where you walk and bring home any rubbish.
If a marshall asks you to move from where you are standing it is for your own safety or because you may be obstructing their view of another marshall. Please obey them or they will have to stop the event.
Please feel free to talk to the drivers in the paddock, they are a friendly, sociable bunch on the whole. And please feel free to attend the prizegiving. Its usually good fun with plenty of humour!
The Corkscrew hill will be closed to traffic on Saturday between 9.00am – 6.00pm and on Sunday on Ballyallaban Hill between 9.00am – 6.00pm. and Traffic Diversions will be in place.
The Clare & Galway Motor Clubs would like to thank the residents on both hills and the Business Community of Ballyvaughan The Clare County Council and The Gardai for their assistance in making this one of the most popular rounds of the Hillclimb Championship.
Dermot Kelleher
Pro clare motor club