Clare and Galway Hillclimb Weekend Review
Report from the Clare and Galway Motorclub's Hillclimbs, Rounds 3 and 4 of the Connaught Competition Engines Hillclimb and Sprint Championship 2011 for the Frank Keane Trophy. By Senan O'Connor.
The peaceful tranquillity of Ballyvaughan was interrupted for a weekend once again. The rocks and gullies of the Burren reverberated to the sound of F1 style engines as this years Connaught Competition Engines Hillclimb and Sprint Championship for the Frank Keane Trophy was passing through again. The Clare and Galway Motor Clubs had collaborated this year to arrange a fabulous double header weekend on two of the great Irish Hillclimb venues, Corkscrew and Ballyallaban. Paul O'Connell was otherwise engaged for the weekend but multiple former championship winner Frank Byrnes and local expert and indeed the winner of Clare's Ballyryan hillclimb in 2010, Syllvie Mullins, were on-hand to give championship leader Simon McKinley a good run for his money.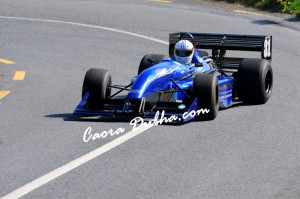 Sylvies's  car on Saturday the 16th of April was a demonstration of what Irish hillclimbing could be like if all hills were as smooth as the Corkscew. His first time was enough to win the event and he improved further on runs 2 and 3 setting a new record of 48.39 seconds for the hill. McKinleys' best was just over point six of a second slower, enough for maximum points of the championship registered drivers and first in class 7. Frank Byrnes's first time was his best on the day in his strikingly coloured V8  Pilbeam. Joe Courtney was another fast local, fourth overall and first in class six in his OMS. Brendan Keane made fourth in class 7, fifth overall in the swallow R14. John Byrne survived an understeering moment  to claim second in class 6 and sixth overall.
Dermot Nolan shared his Reynard once again, this time with Championship Sponsor Phil Price. Dermot was seventh overall and Dr. Phil, as he's become known, for fixing so many championship winning engines, made the top ten. They were split by Adrian McCallion, who was third in class 6 and Rory Stephens on his way to win class 3b. Retired Air-traffic controller Donal Griffin displayed some serious firepower  with the F3000 Reynard he's developed. There could be no doubting that Brendan Harpurs brakes were working this weekend in his Delta T81 when he locked up on run 1. John Mahon in his DJ wasn't quite on song over the weekend with a faulty injector but was fourth in class 6. Deirdre Delaney was next in the class an excellent eighteenth overall but her confidence took a knock when the clutch jammed and she nosed into an unforgiving Burren wall on run 4. Eanna Carroll, second in 3b, just couldn't get the power down on Corkscrew in the Turbo Civic. Trevor Cullen, third in 3B was the first of several sideways rear wheel drive saloons putting on a great show beating Tom Flaherty, winner of class 11 in a Mk2, by just 3 hundredlths of a second.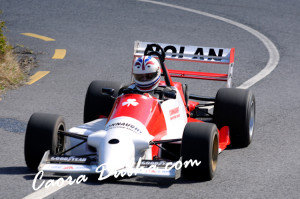 Mini expert Ray Cunningham continues to be unbeatable in class 1, but spent every spare minute of the day repairing a clutch problem that Elaine O'Reilly arrived with in her Mini. Nigel Bryson made a welcome return to the championship in his distinctive Uno and finished second in the class. Stephen O' Shea gained an excellent third in the category, his first time competing in this discipline. Trish Daly had to make the best of one run after a throttle cable snapped in the Fiesta and Tom Kennelly was just behind her in a Fiat Punto.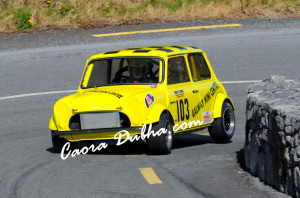 Ian Quinn's rear engined mini was 1st in class 3a on Saturday but disaster struck him when the bonnet flew up and he crashed unharmed but did damage to the car on the practice run for Sundays hill. David Szymanski was second in class 3A in a Caterham Super 7 and John Whitley was third in the Golf Gti.  Colm Dunphy must be learning while working for Frank Byrnes, as he won class 5 in a Formula Ford from Enda Byre in a Formula Vee. Siobhann McCann was third and 30th overall also in a Vee, as was her father Joe McCann less than a second behind her.
Rallydriver Patrick Haughey is becoming a hillclimb regular in his Mk2 and show cased an effective rally style approach to win class 8. John O' Sullivan was next in the class in a Citroen C2. Georgie Bell was delighted with a third place in class 8 on his first hillclimb in a Civic. Joe Baker in a similar car was only 8 hundredths behind him. Keith O'Halloran drifted his way to fifth in a rear wheel drive Starlet. He was followed by Jarlath Conneely, Honda Civic, Shane O'Donoghue Ford Escort, Michael Conneely Honda Civic, Pat Flaherty Honda Civic and Declan Courtney Peugeot 106.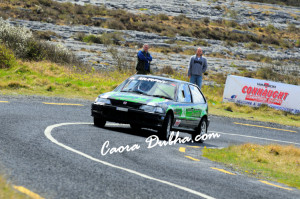 Tommy Murphy was twenty-second overall and first in class 2. John Bradley's perseverance with hand controls is beginning to pay off as he was second in class 2. John Courtney and Aidan Courtney shared an Uno for third and fourth respectively and Ray O' Neill followed them home in a similar car. Pat Murphy and Jack Deagan could only be split by 13 hundredths of a second in their 205's. It was this dynamic duo that got Trish Daly going again. Tony Tuttle was third in their class in a Ford Escort and Niall O'Sullivan survived a fire in his Twincam to finish fourth.
John Farrell, twenty eight overall was the fastest Historic on Scratch time in his Mk1 Escort while Frank Nuttall was fastest on Handicap in the Graham. Matt Dunne in the MG Midget was third followed by Vinny O'Reilly and then John Farrell on that system and Trevor Shannon and Pat Shannon shared an Austin Heally Sprite for sixth and seventh..
The glorious weather continued for round four of the championship held on Sunday at Ballyallaban and this time it was Simon McKinley's chance to dominate as Sylvie Mullins couldn't run after developing gear trouble in the Judd engined Gould. McKinley got within a quarter of a second of the record on his first run and was over 8 seconds ahead of second placed Frank Byrnes at that stage. Byrnes himself was over six seconds ahead of third place Brendan Keane on run 1, the length of this extraordinary course exagerating the gaps between drivers. Dermot Nolan could see the opportunity to go for a podium finish but his attempt on the final run ended in a spectacular crash after he clipped a rock on the inside of one of the Burrens' treacherous corners, He was lucky to walk away from an accident in which he went backwards through a stone wall.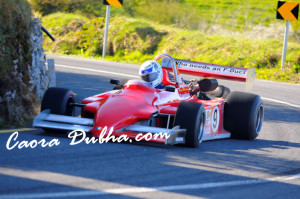 Eanna Carroll took full advantage of his saloons suspension travel and utilised its power to land right amongst the single seaters in fifth overall just a second behind Dermots best and first in class 3B. Adrian McCallion was first in class 6 and sixth overall. Phil Price was much closer to Nolans pace in the car they shared, the margin between them was the same as the day before but the hill was twice as long. Rory Stephens developed some engine problems as the day went on but still managed 8th overall and second in 3B. Again Trevor Cullen was the fastest rear wheel drive saloon in his Escort G3, third in 3B and Ray Cunningham got the little mini into the top ten and first in class 1.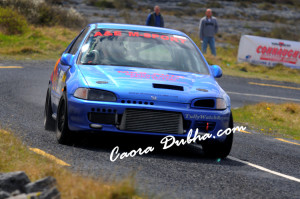 Last years class 9 champion Peter Cummins was 11th in his Darrian holding off a strong challenge from Torsten Schmidt's Escort for a win in class 9. Ger Hodgins was 3rd in a Black Manta and it was nice to see the extra interest in the rally classes on the big hill. Pat Barry was just behind him in an Escort, followed by the 205 double act of Pat Murphy and Jack Deegan, just 1.22 seconds separated them on the 2.5 km hill. This time Niall O'Sullivans driving was on fire and not his car as it was on Saturday. There were just three tenths of a second between him and the Escort of Michael McNamara. John Kenny wasn't far behind them either and Tommy Flanagan double drove the Manta with Ger Hodgins.
Tom Flaherty was another fast Mk2 Escort driver, winner of class 11 and twelfth overall. Pat Ryan was the only other competitor in the class. Dean Laffey drove Frank Byrnes old chassis to thirteenth overall and Brendan Harpur drove another ex-championship winning tub, that formerly of Michael B Roche to seventh in class 7. Tommy Murphy was fifteenth overall in the class 2 Honda Civic and won that from Kieran Curran in a Corsa. John Bradley was third in another Corsa, a result that would lift him to second in the class championship. John Courtney was quicker than his brother Adrian again on Sunday in their Fiat Uno.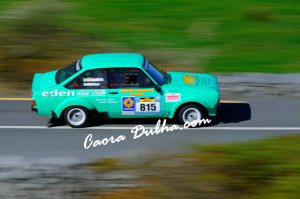 John O'Sullivan got the better of Patrick Haughey in the potent little Citroen C2 in class 8 and was 16th overall. Patrick Haughey was second in the class but the first driver registered for points. Tom Ryan's Opel Corsa narrowly held off Alan Flairs Honda Civic by 7 hundredths of a second for third place. Martin Casey was fifth in another Civic ahead of Kevin McHugo in yet another. Keith O' Halloran was back for more in the Starlet. Followed by Peter Hollingwood Honda Civic, Declan Courtney Honda Civic, Georgie Bell Honda Civic, Shane O'Donoghue Ford Escort, Pat Flaherty Honda Civic, Jarlath Conneely Honda Civic, James Power Escort, Michael Conneely Honda Civic and David Walsh Escort Mk2.
Enda Byrne had another great result in the Formula Vee just inside the top 20 in nineteenth and winner of class 5. Colm Dunphy was second in his Formula Ford and Siobhan McCann was hot on his trail just over two tenths of  a second behind in a Leastone. Her father Joe was fourth and Scott Milligan was sixth, also in the Leastone. In class 6 Joe Courtney's challenge finished before it begun with suspension failure on the Practice Run. John Mahon continued to have problems in the DJ, it's been a frustrating start to the season for him. Deirdre Delaney was rebuilding her confidence and nursing her car after her off on Corkscrew but picked up some useful class points.
John Farrell who also knows a thing or two about the Burrens walls was again fastest of the Historics on Scratch time and was second on Handicap to Matt Dunnes Midget. Frank Nuttall was third having a much better weekend than in Wexford. Vinny O'Reilly was fourth in the Porsche ahead of Mick O'Shea who would have been second on Scratch.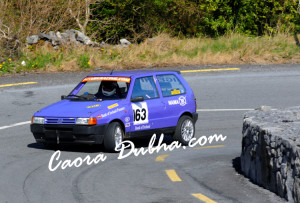 Colin Keegan was second in Class 1 and twenty seventh out of  seventy one competitors at Ballyallaban. Nigel Bryson kept the shoe in, driving the purple Uno to third. a position he now holds in the class championship too. Martin Keegan double drove in the mini and claimed fourth. There was a nice little battle for fifth in the class between Stephen O'Shea and William Power. Stephen lead initially with the Starlet but Power won out in the end by just over eight tenths of a second. That wasn't the only competition in the class though. There was a very unladylike scrap for seventh place between Elaine O'Reilly and Trish Daly. Elaine lead initially by the best part of a second in the mini but Trish went a second quicker than that on run 2 in her Fiesta. Elaine went faster again on run 2 to come out on top by over a second and a half. Neither would improve on run 3.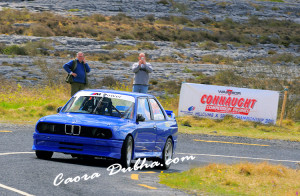 Ger Connor was fourth in class 3b and just inside the top 30 in his Subaru Impreza. John Fitzgerald was fifth debuting his home built 3 litre BMW M3. David Syzmanski won class 3a from Michael Feeney's MG ZR by a very small margin. Michael had helped out marshalling on Saturday. John Whitley was third in his Golf Gti and took enough points to go into the lead in the class championship after Ian Quinn went off in Practice. Roland Doherty won class 10 in an Opel Corsa from Al Meaney's Suzuki Swift.
But what of the record. Frank Byrnes pushed to what would have been a great time a couple of years ago, a 101.28, but Simon was out on his own with no pressure he shattered his own record by nearly 1 and a half seconds with a 93.56. The action continues with two rounds hosted by Carrick on Suir Motor Club on the 14th and 15th of May.