Vote John Bradley No.1!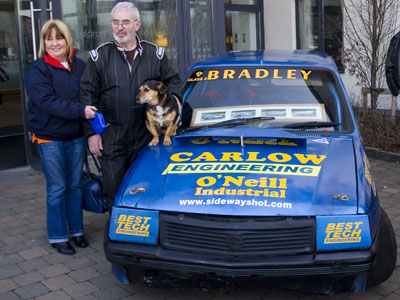 Carlow Car Club's John Bradley has been named motorsport winner for the Co. Carlow Sports Stars Awards. The Thomastown native will join international rugby player Sean O'Brien and Portuguese Premier League player Padraig Amond at the county's premier sports awards night on 25 February in the Seven Oaks Hotel in Carlow.
John joined the Carlow Car Club four years ago after deciding to build a 1600cc Vauxhall Nova and start competing in Hillclimb and Sprint events throughout the country. He has competed in the National Hillclimb Championship for the past four years and has improved every year starting out with a third in class the first year, third again the next year, second the year after and he pulled all the stops out in 2010 to take first in class 2 of the championship.
What makes the achievement remarkable is that because John suffers from MS and his condition has worsened in the last year or two it made it extremely difficult to manage the foot pedals on the car. The MS affects Johns legs and he was finding it very hard to lift his foot off the accelerator and to press on the brake, but this did not deter him and as he signed up for the 2010 Hillclimb Championship as he also modified his car to suit his condition and fitted the foot controls of the car to the steering wheel.
Competing in these events is more than just a sport for John it is a family outing as he, son Colin and daughter Donna all compete and this year saw John and Colin compete against one another in class 2. But that's not to forget John's wife who takes care of the cooking, his brother who looks after the car and the mascot of the Bradley motorsport team Ben the family pet who also makes the trip to the events.
The Nationalist newspaper, who organise the event, also run a public voting system for the sports personality of the year. To vote for John simply text Bradley to 53503. The text line opens on 1 February and runs until noon on 25 February and texts cost 30c plus the standard SMS rate.
Terry Reilly – The Carlow Nationalist