McKinley takes the title in Donegal!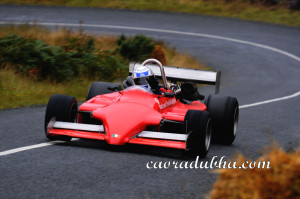 The Connaught Competition Engines Hillclimb Championship Season draws to a close and what a thrilling finale we had in Donegal. With so many class positions to be settled and the overall result in the balance a large number of hillclimb regular competitors made the annual pilgrimage to Knockalla in Donegal.
On Saturday the day started off wet and windy, but got progressively drier. The famous Knockalla hillclimb was in great condition and all looked set for a great day.
The overall battle was poised to be electric and dramatic and boy did it deliver! Paul O'Connell needed two 2nd place finishes both days to secure the championship for a record breaking 4th time, while Simon McKinley needed to win both days and hope that another competitor would beat O'Connell.
As the day went on McKinley was on a mission, he shattered the previous record held by the late John Leinster not once but twice on Saturday. O'Connell played the waiting game and finished 2nd over a second adrift. Seamus Morris who could do McKinley a favor by beating O'Connell ran into clutch problems that saw his car sidelined for the day. He eventually took up the offer of a double drive in O'Connell's old car the Delta Warrior to record a points scoring position.
Sunday morning came and in overcast conditions practice started. O'Connell was one of the first single seaters to go up and clearly in fighting form looking for an elusive win. He recorded a time in practice only 3 tenths slower than his previous day's best. Disaster struck for O'Connell after the finish as he tried to slow the Pilbeam down, the car becoming unsettled and spun on the road and the e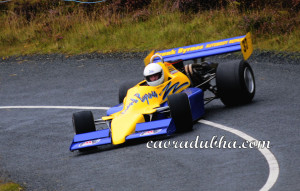 nsuing damage taking 3 corners off the car. All credit to the Donegal club and the emergency services that were on the scene very quickly and driver emerged in one piece a testimony to these modern single seaters.
This left O'Connell with his trusty Delta to compete in for the day but for once the trusty Delta left him down stripping third gear and putting paid to any title challenge for this year.
Simon McKinley went on to again shatter his previous record in the Warrior engined Lant to 37.97 seconds and took the deserved spoils becoming the Irish Hillclimb champion for 2010. A dramatic end to the championship year and a deserving Champion in Simon McKinley.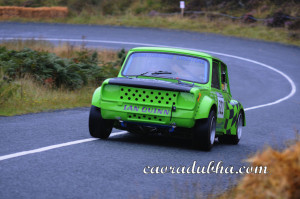 Class 1 was won by the ever mad Nigel Bryson in his Uno, followed by Elaine O'Reilly in her Mini. Trish Daly made the epic trip from Castletownbere Co. Cork to take points home for third position.
Class 2 was won by the sole participant Michael Melia in his trusty Escort both days. After a long layoff with a back injury it was great to see Michael back behind the wheel.
Class 3a was won by Ian Quinn both days with Stephen Gillis taking 2nd on Saturday before returning home for Sunday. Michael Feeney in his MG finished 3rd on Saturday took points for 2nd on Sunday on his first trip to Knockalla. The ever present John Whitley took the points for the win on Sunday as Quinn is unregistered this year.
Class 3b was won by "Grandad" Rory Stephens on Saturday in his turbocharged Radical. Unfortunately he encountered gearbox trouble and was sidelined for Sunday. Alan Kessie in his Gryphon and Eanna Carroll in his Turbo Civic continued to fight tooth and nail, with Alan Kessie coming away with the spoils on both days.
Class 4 was won by Matt Dunne both days in his Midget, followed by the legendary Frank Nuttall in his Graham.
Class 5 was won by Scott Milligan both days, but Colm Dunphy who is unregistered this year is set to return next year in his Laser Formula Ford, along with Ger O'Connor and a few more. Scott will have his hands full next year!
Class 6 was won both days by Joe Courtney in his OMS Hornet. Edwin Ryanhart was 2nd both days while John Mahon had another tortuous weekend with engine trouble. True to the spirit of Hillclimbing though Robert Bell was brave enough to let John double drive his car and john took the points for third in the class.
Class 7 was won by Paul O'Connell in his Pilbeam on Saturday but after his troubles on Sunday he could only manage 4th. Brendan Keane was 2nd in class on Saturday and slipped to third on Sunday. Seamus Morris displacing Keane on Sunday for 2nd behind the improving Dermot Nolan who took the win on Sunday.
Class 8 was won again by Karen Feeney, The Galway girl fresh from running a marathon the week before made the marathon trip to Donegal and took home maximum points again in her Rover.
[youtube=http://www.youtube.com/watch?v=CLHBRK0m5CY]
Irish Hillclimb & Sprint TV by: Vantage Point Video
If you like this footage, DVDs can be bought from Vantage Point Video with full coverage of each event.