2010 Season Review
By Liam Mac Con Iomaire:
Perhaps one of the most exciting chapters of Irish Motorsport History concluded on the summit of Knockalla Hill Co Donegal. Knockalla would see a new champion crowned King of the Hills. And a Valiant champion fight on until the end. It also bore witness to a camaraderie that is the epitome of the Irish Hillclimb Championship.
It was a year that saw event cancellations; it seemed the recession was beginning to catch up on our motorsport. Even the Phoenix Park races were not immune. And a new numbering system was being tested as well.
Caora Dubha looks back on some of the most exhilarating rounds of the year.
Clare Hillclimb, Rounds 1 & 2
Corkscrew Round 1
Round one got underway on the famous Corkscrew Hill, despite undergoing major cosmetic surgery, Corkscrew had lost none of her charm. A spectators Mecca, nothing prepares the senses for the sound of a V8, howling on the start line.
Over the years many an epic battle was played out on Corkscrew hill, Names such as, Richard Young, Carl Cleary and the Kettle brothers. To name a few, have written themselves into the history books of Irish Motorsport.
Simon McKinley fired the first salvos of this exciting championship, by taking the win on this historic hill; defending Champion Paul O'Connell took second place. Followed by Brendan Keane in third.
The Scalp hill Round 2
Scalphill a newer hill to the championship, has quickly established itself as a flat out powerhill, its one of few hills where single seaters get airborne over bumps! This hill is deceptively quick, but there are hidden traps that can snare the unwary driver. Granit walls wait silently to claim unlucky victims.
Again Simon McKinley racked up maximum points, spectators and competitors alike, were astounded at the pace of these two pugilists' 0.51 was the winning margin. Rory Stephens followed the lads home in third in his fire breathing Radical.
Galway Motor Club Rounds 3 & 4
Rounds 3 & 4 were based in the picturesque village of Ballyvaughan Co Clare, GMC traditionally run Ballyryan on the Saturday, and Ballyallaban Hill on Sunday.
Ballyryan Hill Round 3
Ballyryan is another flat-out-hell-for-leather Hill, and only the truly brave (or foolish) drivers push the limits of this hill. Would Simon make it three for three? Or would Paul strike his first blow in the championship battle. The answer of course is no, Sylvester Mullins in his Gould GR 37 put in a scorcher of a run, only besting Simon McKinley's time by a mere 0.01. Followed home in third by Paul O'Connell.
Ballyallaban Hill Round 4
On Sunday the action moved to Ballyallaban hill, at 2.2 miles its one of the longest and most demanding hills  used in Ireland.
It's off camber bends and bumpy straights lie silently in wait for the over eager competitor, the hard granite  walls have claimed many a driver; these walls still bare the scars of drivers who pushed too hard, or pushed their luck  too far. Only to be stopped by the Granite guardians of the Burren.
From early morning spectators gathered at vantage points along the hill, down in the Paddock the drivers carried out last minute servicing to the cars.
There seemed no let up in the pace at the front, both Paul & Simon set the hill ablaze with their pace, and this was only the practice run. Such was the speed, spectators stepped back in awe, as each car was a mere blur.
Truly the normal laws of the Universe do not seem to apply to these lads, Sylvester Mullins had to contend with mechanical  gremlins. And would get only one proper run at the hill.
On his third run Simon McKinley  broke the hill record, He seems to be able to bend the laws of space and time at will. His time of 95.02 astonished those who witnessed his run .A  flabbergasted  Paul O'Connell pulled into the car park on the way down to check the times. Simon had beaten him by a awe inspiring 0.01, a blink of the eye.
Wexford Rounds 5 &6
Round 5
Simon continued on where he left off as he proved almost unstoppable, Paul was only Just 0.58 behind Simon on Day one. Followed home by Seamus Morris.
Round 6
Round 6 went to Paul O'Connell, his first win of the year, second went to David James. And third to Seamus Morris. The race for the title was under way. But trouble loomed in the championship, as event  cancellations prompted the committee to bring forward the annual forum. In hopes of finding a solution.
Portlaois Pow-Wow
The Hillclimb Forum met to seek possible solutions to the crises, cancellations by Tipperary & Limerick, threw the championship into doubt. The committee tried to secure other events in their place, Tynagh was looked at as a possible event, but proved too costly to run. Efforts to get into Phoenix Park also proved fruitless, the event like others cancelled due to economic reasons.

Eventually, a solution of sorts was found, and the championship moved onwards towards MEC
M.E.C Rounds 11 &12
Held just outside the fair city of Dublin, and after a extended rest, battle was renewed between the two main rivals. Only the smallest of margins separated Simon McKinley & Paul O'Connell. Simon continued his winning ways, with Paul in second, and Seamus Morris in third.
Round twelve also finished the same way, Simon was now in a commanding position, but Paul O'Connell could still catch up on the remaining final rounds in Donegal. The race to the finish had started.
Donegal Rounds 13 & 14
The man who would be King.
Arguably, one of the most spectacular seasons of the Irish Hillclimb championship climaxed in Knockalla Donegal this weekend.  And in the process Simon McKinley wrote himself into the pages of Irish Motorsport history.
Simon took victory both days, and smashed another Hill record in the process; in a driving style reminiscent of the great Alain Prost, Simon, like the Professor (Prost), has the uncanny ability to produce the most spectacular runs out of the blue. And in doing so frustrate his rivals.
The battle between Simon and Paul O'Connell was reminiscent of the great Prost, Senna battles in F1 many years ago.
Victory on Saturday and a new hill record went to Simon, with Paul second and Frank Byrnes third.
On Sunday Simon continued as he left off, setting a blistering pace, Paul suffered a high speed off; though shook, Paul was ok.  On hearing Paul's misfortune, Simon offered his car to Paul, he decided to continue in his old car.
Strapped into the Delta Paul made one last valiant effort, only to suffer gearbox problems, and so handed the championship to Simon.
Right from the word go this year, it was obvious that Simon was almost unstoppable, even the champion Paul O'Connell must have wondered how Simon could pull these times out almost at will.
Simon put in some amazing times this year, his cat like reflexes seem to defy the laws of physics. It would seem that, E=mc2 does not apply to him.
So then, a worthy Champion, we pay homage to our new King of the Hills Simon McKinley. And say thank you to Simon; Indeed to all the drivers, for the most memorable championship in many years.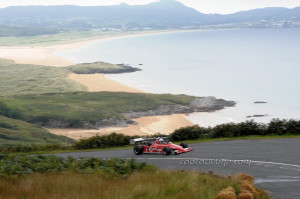 Credit: Article and images by Liam Mac Con Iomaire. Liam is a motorsport fanatic who travels the length and breadth of the country following Motorsport. Be sure to check out Liam's site : caoradubha.com where you will find photos from most of this years championship rounds. Prints are available for purchase on Liam's site.